Local Kitchen School Meals
Local Kitchen are the current providers for our school meals, please see attachments below or the link below for menu, allergy & food standards information.
https://www.wigan.gov.uk/Business/Local-Kitchen/Index.aspx
Please inform school if your child has any food allergies - office@ashtonsaintthomas.wigan.sch.uk
At Local Kitchen, we source 95% of our food locally, supporting the local producers right here on our doorstep and keeping food miles to a minimum.
In fact, most of our fresh vegetables are farmed just 12 miles up the road and our morning goods are freshly baked in the bakery just over seven miles from our main office.
Using local suppliers isn't just about cutting down on food miles, it's about a wider belief shared by Wigan Council that community wealth building puts people at the heart of local economic development to create a fairer and more equal local economy.
By using local suppliers we play our part redirecting wealth back into the local economy, for the benefit of local people. For us, this means supporting local producers and reinvesting profits back into Council services for the local community. It also means that all our staff are paid the Wigan Living Wage.
Meet our local suppliers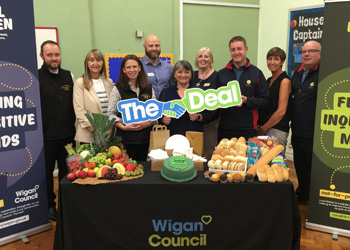 We've worked with trusted local suppliers for many years including:
Files to Download